Divorce Attorney in Nassau County, New York
NY State Attorney Anthony J. LoPresti Helps You Move Forward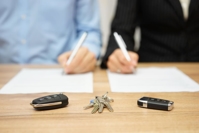 Divorce can significantly impact many areas of your life, including your finances, family relationships, emotional health, and living arrangements.
Some of these changes may be positive, and others can be difficult.
That's why it is crucial to seek legal representation from a skilled and experienced divorce lawyer in Nassau County who will pursue the best possible situation for you.
Anthony J. LoPresti is a NY state family attorney who provides high-quality legal counsel to people going through a divorce throughout Long Island, New York.
Grounds for Divorce in New York State
In the State of New York, you no longer need to prove fault to obtain a divorce.
Ex-spouses who no longer wish to be married with irreconcilable differences should agree to a no-fault divorce. A no-fault divorce is used based upon the irretrievable breakdown of the relationship per 6 months.
The base number of no-fault divorces is over 98% of divorces.
The remaining grounds are fault-based, meaning that one spouse has acted in a way that justifies divorce.
New York law recognizes the following categories as sufficient grounds for divorce:
Cruel & inhuman treatment — Verbal, physical, or emotional abuse has occurred, making it unsafe for one spouse to live with the other.
Constructive abandonment — Physical abandonment, including sexual abandonment for one year or more.
Three consecutive years imprisonment — One spouse has been in jail for three or more years in a row, beginning after the marriage.
Adultery — One spouse has cheated on the other. This cause must be proven using evidence and a third party.
Separation — Living separate and apart for one or more years under a court order or agreement.
No-fault divorce (Domestic Relations Law § 170(7)) — Irretrievable relationship breakdown for at least six months.
Our Nassau County divorce lawyer can help you explore your options for divorce and determine if you have adequate grounds.
How Long Does A Divorce Take In Nassau County, NY?
The whole process can take 3 to 4 months. Divorce in Nassau County, NY, can take place in different ways depending upon the circumstances of the filing parties.
For a divorce to be acquired based on a legal separation, the parties must live separately for a minimum of one year before submitting an action for divorce.
Your divorce lawyer in Nassau County can provide you with a rough estimate of how long it will take you to complete your divorce.
However, if you and your ex-spouse are willing to collaborate and negotiate respectfully, it's likely to expedite your divorce proceedings significantly.
In addition, exploring mediation with the help of your Long Island divorce attorney can mean a much quicker divorce.
Contact us or call our skilled Nassau County divorce lawyer at

(516) 252-0223

to schedule a free initial consultation.
Divorce Process in New York State
Summons and Complaint - This is the official request for divorce. One spouse serves the other spouse with a demand to end the marriage. The summons is the official document announcing the divorce is commencing.

The complaint is a two-part document, the first of which outlines the basic facts of the situation and the second of which seeks relief, such as custody, child support, and division of assets. The served party then prepares an answer to the complaint with their lawyer.

Typically, completing the summons takes up to 30 days. If the served party has no issues with the original complaint, a counter reply is unnecessary.

Temporary Hearings - Arranging this hearing creates a temporary, legally binding situation before the final arrangements of the divorce. For example, temporary hearings determine custody of child, financial support for child and spouses, protection from domestic violence, details about where spouses will reside during the divorce proceedings, and how each spouse will use assets.

Temporary hearings might include an order for both spouses to attend co-parenting classes.

The intention behind these classes is to give divorcing spouses the tools needed to help their child deal with the separation of the family.

Discovery - Discovery is the investigation phase of the divorce proceedings. It gives lawyers for both spouses the opportunity to sort through the divorce case and create a plan.

The process can include both parties exchanging information informally and testimony given under sworn oath.

Discovery includes several steps, including interrogatories, document requests, releases of information, requests for admissions, and depositions. The court might also call lawyers to provide information concerning finances or the psychological well-being of a spouse or child.

Settlement and Trial - At this point, both parties agree to reach the details of the divorce settlement.

However, if a divorce settlement is not possible because of ongoing disputes, the case will proceed to trial. During the trial, each spouse shares their story with the court.

The divorce settlement also includes testimony from witnesses and the sharing of documents from the discovery phase.

Conclusion - The judge creates a ruling that includes the divorce details. Each party has the option to appeal.

Once all issues are settled, and further appeals are no longer an option, the divorce is final.

It is possible to request a modification concerning parts of the ruling in the future if situations change.
Contact the Nassau County Family Law Firm Of Anthony J LoPresti in NY State
Our skilled legal, financial team can provide you with a fair and impartial review of your assets. In addition, if you have child, we will create custody and child support plans that are in their best interests.